Here at iDoor, our doors are manufactured in the UK for us by Door-Stop International, one of the UK's leading door manufacturers and they are based in Nottinghamshire. They are so proud of their product that each door is individually stamped discreetly on one edge to let you know and to prove its genuine!
idoor.co.uk was set up by Smashing Windows Ltd following the significant interest in highly secure, energy efficient composite doors, and Door-Stop are the experts in producing exactly what we wanted!

Thirteen door colours
Express your style with our wide selection of colour options – the door can be as individual as you like. You can choose from 13 door leaf colours; white, black, blue, red, poppy red, green, oak, darkwood, cream, grey, chartwell green, black/brown and duck egg blue, and most of these can also be incorporated on the interior side as well as the exterior side! To get a better look at our door colours, check out our images via the gallery on our 'design your door' page.

Stainless style
Whether it's for world class civil engineering or world renowned cutlery, stainless steel has been the first choice for strength for many years. It stays strong in all weathers. It doesn't rust or pit – ever. And it enhances the long lasting good looks of your new door
Our stainless steel door furniture range doesn't just come in the striking chrome colour you would expect, either. It is also available in black or polished gold. So you can find the perfect style of numbers, knockers, and handles without compromising on enduring strength.
With our unique stainless steel range you get door furniture that stays looking and working beautifully from first to last.

44mm thick – and solid framed
Our composite door is thick – but it's also very smart. In fact it's 44mm thick. Compare that to conventional PVC panel doors at 28mm and you'll agree, that's not very much at all between you and the outside world. And powerful too, thanks to its super-strong structure – our doors have a solid edge to help keep you and your castle super-secure.

Attention to detail – edges and thresholds
Door-Stop have the first composite door that offers the complete package – all-round style and all round colour. Uniquely coordinated details and exceptional quality. For example you can choose from our oak or darkwood and be assured that every angle of your door has been considered – even the edges.
Real style demands real attention to detail. We've carefully considered every aspect – the door leaf has been carefully designed to coordinate with the door frame, the weather drip bar, the reglazable cassettes and our new colour coded caramel or brown colour thresholds. You don't see any conflicting elements. Just all-round elegance, creating the appearance of a complete timber door, inside and out. the next step for the composite door.
The hinge edge of your door has a PVC edging. Then we cut through the edging so that whichever hinge you selected sits neatly inside the edge of your door. To make the door super-strong, the lock edge has been fitted with a full length of 4mm thick, powder coated aluminium lock strip. Then your preferred lock sits flush inside your door.

Don't replace – reglaze!
Life is full of surprises. Like your other half suddenly hankering for a new look front door. Or the glass in your door getting broken in the neighbours' kids weekend ballgame.
But you can be sure that with our patented reglazable cassette system changing the glass does not mean replacing the door, for whatever reason. We've made it easy to reglaze without any impact on the door or the cassette. In the event of the unexpected, the glass units simply break down and go misty. So no drama, no fuss and no brand new door required. Our cassette is also colour injection moulded to match your door and fully accredited to tough BS:EN 6375 and PAS24 security standards.

A work of glass art
What's your favourite colour? We know you'll have a preferred hue, whether it's extrovert red, calming blue or tranquil green.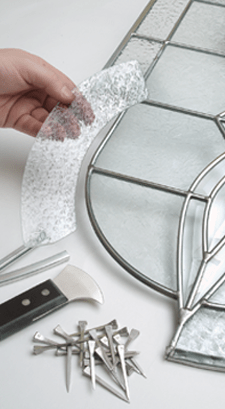 Whatever it is, a touch of the bright stuff can help bring your home to life.
Like the sound of three drop diamond in blue, red and green? Tempted by our Italian chic Fusion Art range? How about a traditional entrance to your home with English Rose – or perhaps a touch of Art Nouveau with Fleur or Mackintosh Rose?